Online Advertising Total Front Page
Discovering new ways to reach consumers online can seem like an overwhelming and expensive task. Methods and avenues to advertise your business online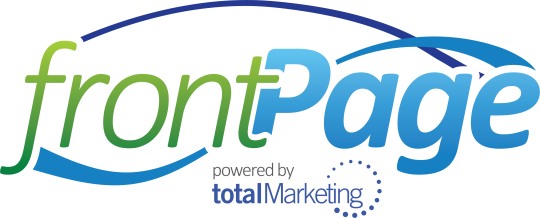 change seemingly. You build what appears to be strong campaign, only to find out a year later that many rules of marketing online have changed.
Your challenge is to get yourself in front of targeted customers, and do it in an affordable manner. A continuing flow of customers is the life-blood of any business. You can write blogs and spend tens of thousands on pay-per-click ads. Updating your website with fresh content, and posting religiously on social media can also be part of the plan. You add specials to bring people in, and keep your social media accounts fresh and interactive.  It helps, but is it enough?  Tough question, to be sure.  We will show you how using online advertising Total Front Page will answer that question.
Strategic Advertising
Advertising online is strategic. To succeed in marketing your business online, you need highly focused goals. Know what will produce results, and optimize your marketing efforts on these goals. You also need to keep your eyes on the technical landscape to make sure you take advantage of new techniques. This is especially true regarding online advertising.
When marketing your business online, you must get your business in front of your customers when they are looking for your product or service. In today's marketplace, most consumers find your business online. By foregoing online advertising, you should know that it could be difficult to build your business. Your competitors capitalize on capturing users as they search online.
Up until now, the typical way to market online has been social media, SEO efforts, pay-per-click, remarketing, and other similar marketing efforts.  Almost no one wanders past the first page of a search engine. So, unless you are on the first page of the search results, it is very likely that your business will not be seen. But even if your business is on the first page, there are still at least nine other companies right there with you.
Gaining an Advantage
In business it is a good idea to always be forward looking. Online advertising strategies evolve, and new ways to market are always coming available. Knowledge of these new ways to market, and taking advantage of these opportunities, can make the difference of just maintaining or enjoying a fast increase in new customers.
To get your business in front of every customer looking for your business, and be the only company they see, placing the business in the auto-complete for Google and Bing is powerful. This is known as "Search Box Optimization". Every time a customer searches for your product or service, Google and Bing display suggestions in the auto-complete box. Approximately 71% of users take advantage of the suggestions. These are suggestions by Google and Bing to the user, based on the keyword phrase they typed into the search box.
For instance, if someone in Kansas City is looking for a pest control business, they may type "pest control in Kansas City" into the search box.  If your company immediately shows up as a suggestion by Google and Bing in the auto-complete box, every customer will see your name.  You immediately provide consumer confidence in your brand.  Customers who choose your business in the auto-complete will see an organic results page that eliminates your competition. Your business will have the only organic links on the page. The vast majority of users only click on organic links. Not only will your website will appear, but also your social media accounts, reviews, press-releases, videos, etc.
A New Kind of Online Advertising
Every so often, a great marketing tool comes becomes available. Taking advantage of that opportunity quickly is how you become successful. Total Front Page offers a marketing program that allows you to be suggested to every potential customer searching for your product or service.  If you want to take advantage of new technology that can give you a complete advantage over all of your competitors, Front Page is that technology.
The Front Page program allows only one company per keyword phrase. So if you are that pest control business in Kansas City, you may find that one of the keyword phrases used most often is "Kansas City pest control". You would want to act fast to own this keyword phrase and others like it. Once a business owns this keyword phrase, it's unavailable to everyone else.  Dominate online, and put your company in front of every person searching with those main keyword phrases.  Take advantage of online advertising Total Front Page and get your unfair share.
Read More