How to market your business online.
The sure way to get yourself in front of every potential customer.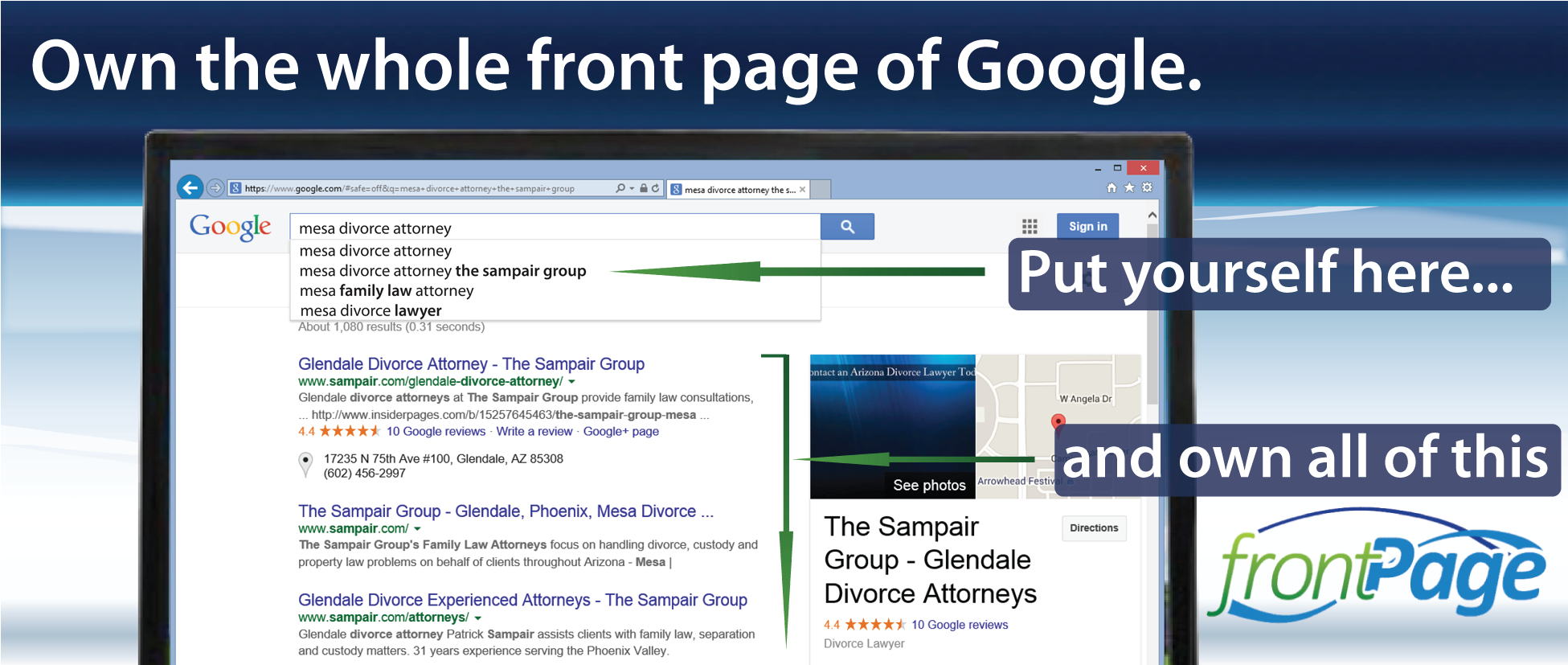 Marketing your company effectively in the major search engines is a critical part of business growth and sustainability. The problem is that the "real-estate" to market your company is small, meaning the first page of Google, Yahoo or Bing. If you aren't effectively marketing your business on this piece of "real-estate", you are missing out on a huge customer base.
Everyone knows that they need to be on the first page of the search engines, but everyone else is trying to get there also. And when you finally get your company on the first page, you realize you are there with about 20 other companies. It's difficult to stand out.
So what is going on in the world of search results.
As you know, everything continues to change and evolve when it comes to marketing your business online. The first step is understanding the playing field. Google is now putting a lot of emphasis on your brand, and looks how customers search for your company name.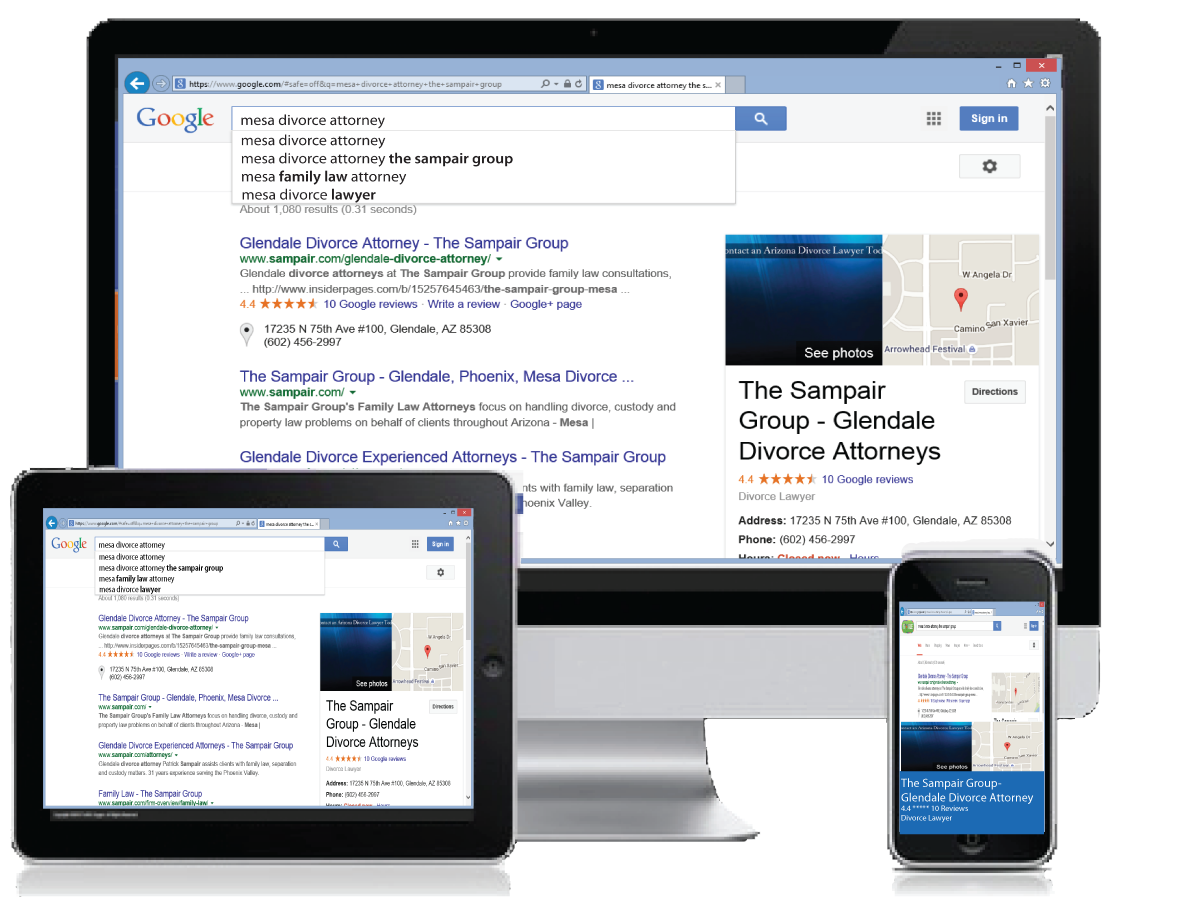 Google ranks sites on what we can control, such as your website content, social media activity, etc., and also what we can't control, such as online user activity. In Google's newest algorithm they put a lot of ranking influence on user activity, meaning they are trying to do a better job of providing the results customers want.
An important note to that after the last panda/penguin update, you will see that it appears that google favors the large sites like amazon, sears, home depot, etc. Actually, the reason these major sites have moved up so aggressively in rankings is because of all the people doing searches with these company names included in the search, for instance, "pluming materials home depot". Because of the new update, these types of searches allow for huge ranking advantages when people search for a product and a company name in the search before they hit enter. It's not that google favors these big company websites, it's because google thinks that we favor these websites, because users are doing so many searches that include a company name. Because we, the users, are telling the major search engines that we favor these large companies, the major search engines are starting to rank these sites higher in the results. It is basically a situation where we asked for it, so we get it. We keep putting company names in our searches, so search engines are ranking these companies higher in the results.
Effective online marketing.
In order to explode your online marketing, you first need to make sure that you have (1) a good website with good relevant content, (2) social media activity, (3) directory listings, (4) local marketing like Google Local or Maps and (5) some content on other sites that link back to your website, such as blogs where you answer questions from customers.
Once you have this, you have the foundation to build your online marketing. The problem is that many other companies are doing this also. How do you get yourself in front of the competition with your online marketing campaign.
Get in front of every customer searching for your product or service.
The way to be in front of every customer looking for your product or service is to be suggested by the major search engines. About 70% of all users engage with what is called the auto-complete.
Whenever a customer is typing in a search term looking for your product or service, you can be in front of every customer. You can put your brand name as a suggestion from Google and Bing. Every customer who types in the search box will have your name in front of them as a suggestion before they see any of your competition. You can get them to see your company and those that click on your name in the auto-suggestion drop-down will go to a page that has only your company listed on the entire page. You completely bypass your competition.
Take a look at some examples
As an example of search box optimization, open a browser window and go to Google. When you start typing a search phrase, you will notice that Google immediately starts suggesting search terms.
When your customer searches for your product or service, they do the same thing. Why not have Google and Bing suggest your company to all your potential customers.
Try it for yourself. Open Google and slowly type in the following search phrases and look at the suggestions. You will see a company being suggested to you.
Try "Dallas mortgage company"
Try "auto body repair Las Vegas"
Try "Mesa divorce attorney"
You will see that the search engines are suggesting companies with these searches. If you want to get an immediate advantage over all of your competition, be suggested by Google and Bing. Online Marketing by Total Marketing250 can help you achieve your goal of dominating your marketplace with search box optimization.
Get your company branded just like the large fortune 500 companies. You will immediately be in front of every customer using the search terms that bring you new business.
Whether you are a well-established business, or a new start-up, Total Marketing250 can help you dominate with effective online marketing.
The major keyword phrases that customers use to find you are going fast. Companies are using this to get amazing results. But once a keyword phrase is taken by a company, it is gone, so make sure you contact Total Marketing250 and get started today.